Telling Our Story
As a cornerstone in the development and growth of Fremont, Nebraska, Christensen Lumber Company has provided products, services, and jobs to our neighbors for a full century, and we have had the great honor of giving back to our community through local and national charities and non-profit organizations of many kinds across the decades. From the very start, we have been wholeheartedly dedicated to offering high-quality home products and building materials, as well as providing outstanding service for our customers across all facets of our business. We strive to give only our very best to local builders and contractors.
Today, Christensen Lumber Company operates a 225,000 square-foot warehouse and production facility on 19 acres of land in Fremont. We also operate two additional design showrooms and sales offices in Elkhorn and Lincoln. Our business has changed greatly over the years as our country has changed around us, but we have remained true our mission to be the best customer service-driven supplier of building materials, and to do so with compassion and community at the heart.
In honor of our 100th year in business, we're privileged to be able to share our story with you.
Founded in Fremont
The first iteration of Christensen Lumber Company was founded on March 23, 1923 in Fremont, Nebraska.
Alfred F. Christensen, a former bank teller and cashier, partnered with Robert A. Luehrs, a local homebuilder, to purchase a coal and lumber facility that had recently come for sale: Johnson and Cheney Lumber Company. It was housed in what would become Christensen's original building, constructed in 1895. It was, and is still, on South Main Street, just south of First Street, beside the downtown stretch Main Street, Fremont.
The location was ideal. At the time, lumber and coal were delivered to Fremont by either driver-owned horse-and-wagons or, more efficiently, by train. This made the land between the Burlington Northern and Union Pacific railroad tracks where Johnson and Cheney had operated especially desirable.
Thus, the Luehrs-Christensen Lumber and Coal Company was established with both Luehrs and Christensen in equal partnership on the venture. The business adopted the slogan: "The Home of Marvelous Coal".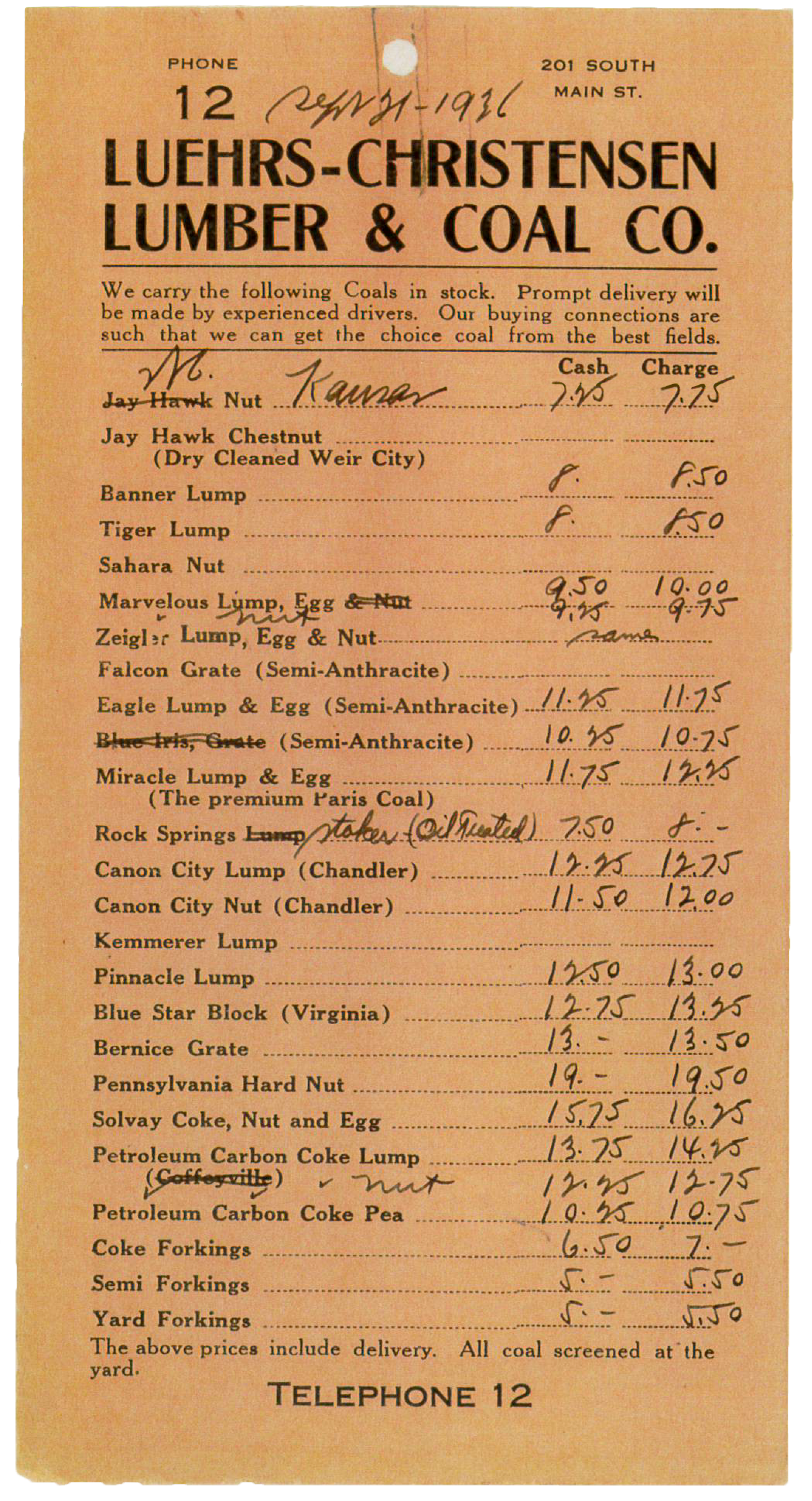 Through Tragedy and Triumph: The Great Depression
The tough economic conditions meant building of any kind was almost completely halted and there was little demand for lumber. Therefore, Luehrs-Christensen got on solely by selling coal from their local store. Going into the Great Depression, 13 coal yards operated in Fremont. Not all made it to the other side of the downturn.
Selling coal was strenuous and dirty work. The coal was manually shoveled out of the railroad gondola cars and was stored in piles or coal bins in the yard, or in coal sheds on the premises. The coal side of Luehrs-Christensen's business was able to successfully sustain the business, even through the most challenging days of the Depression.
If the Depression years' challenges were not trying enough, most unfortunately, the Luehrs-Christensen original building burned to the ground in 1931. The fire was responsible for extensive damage to the facilities and product, nearly destroying the entire business.
With incredible resiliency, Luehrs and Christensen began construction on a new building almost immediately, creating the building we still operate in today.
Our Place in History: The Home of '36
The first new home to go up in Fremont since 1929 was built by Luehrs-Christensen in 1935 through 1936. The home was one of 47 across the state of Nebraska financed by President Roosevelt's newly instated Federal Housing Administration. The model home was referred to as the "Home of '36".
The home, designed by local architect George Grabe, was crafted to feature the most exciting modern features a home could boast, including a recreation room with a fireplace in the basement.
The single-story, two-bedroom home was built on Park Avenue between 21st and 22nd Street. It measured 32x36 with a garage.
The city of Fremont held a groundbreaking ceremony for the Home of '36, which Alfred Christensen and Robert Luehrs attended alongside the Fremont mayor at the time, Fred Drew. The ceremony was held the morning of Tuesday, June 18, 1935, only days after the Federal Housing Administration had officially launched.
A Visit from President Roosevelt
The video to the left is original footage of the Luehrs-Christensen Lumber and Coal storefront captured by Alfred Christensen on September 2, 1936. On this date, President Roosevelt made a quick visit to Fremont as part of a tour of the west's impact from the ongoing drought; the trip was also a part of FDR's 1936 presidential campaign for his second term. Troops can be seen marching from inside of and across the front drive of the Luehrs-Christensen building.
Our Efforts on the Homefront
During World War II, Luehrs-Christensen relied on selling coal once again to get by. During the war private housing started, which had just begun to recover from depression-era lows, almost completely stopped. Existing lumber, tin, and many other home-building materials were strictly allotted and even collected for war efforts. Manufacturing of every kind was redirected for weapons and military equipment by President Roosevelt's War Production Board.
In 1943, Luehrs retired and sold his interests to Alfred Christensen and the company became known as Christensen Lumber and Coal. At the time, the yard area covered 28,500 square feet with an office of 1,000 square feet, completely dedicated to coal at the time.
Coal was a driving force behind the war effort. It was crucial to the manufacturing of steel, iron, and other military goods - not to mention its necessity on the home front in producing electricity, powering locomotives, and heating homes - making it pivotal to the success of the United States during WWII. Coal production in the United States jumped from 348 million tons in 1938 to 617 million tons in 1944.
Initially, the forest products industry weakened as its workers were pulled by the draft or moved on to other industries for the war effort. But as the war pressed on, metal resources for facilities and machinery dwindled, causing demand for lumber to increase sharply. Wood was used in place of metal wherever possible, particularly in components of military aircraft and ships, and as molds, scaffolds, trusses and in other construction applications. The strong forestry economy from the war meant production of lumber was high going into the post-war housing boom.
With virtually no houses built during the war, the United States was left without enough homes for its citizens. Between 1939 and 1943, marriage and birth rates rose steeply, creating millions of new American families. By 1947, the housing shortage left 6.5 million families living with friends, relatives, or in temporary housing. Unprecedented demand resulted in an unprecedented building boom.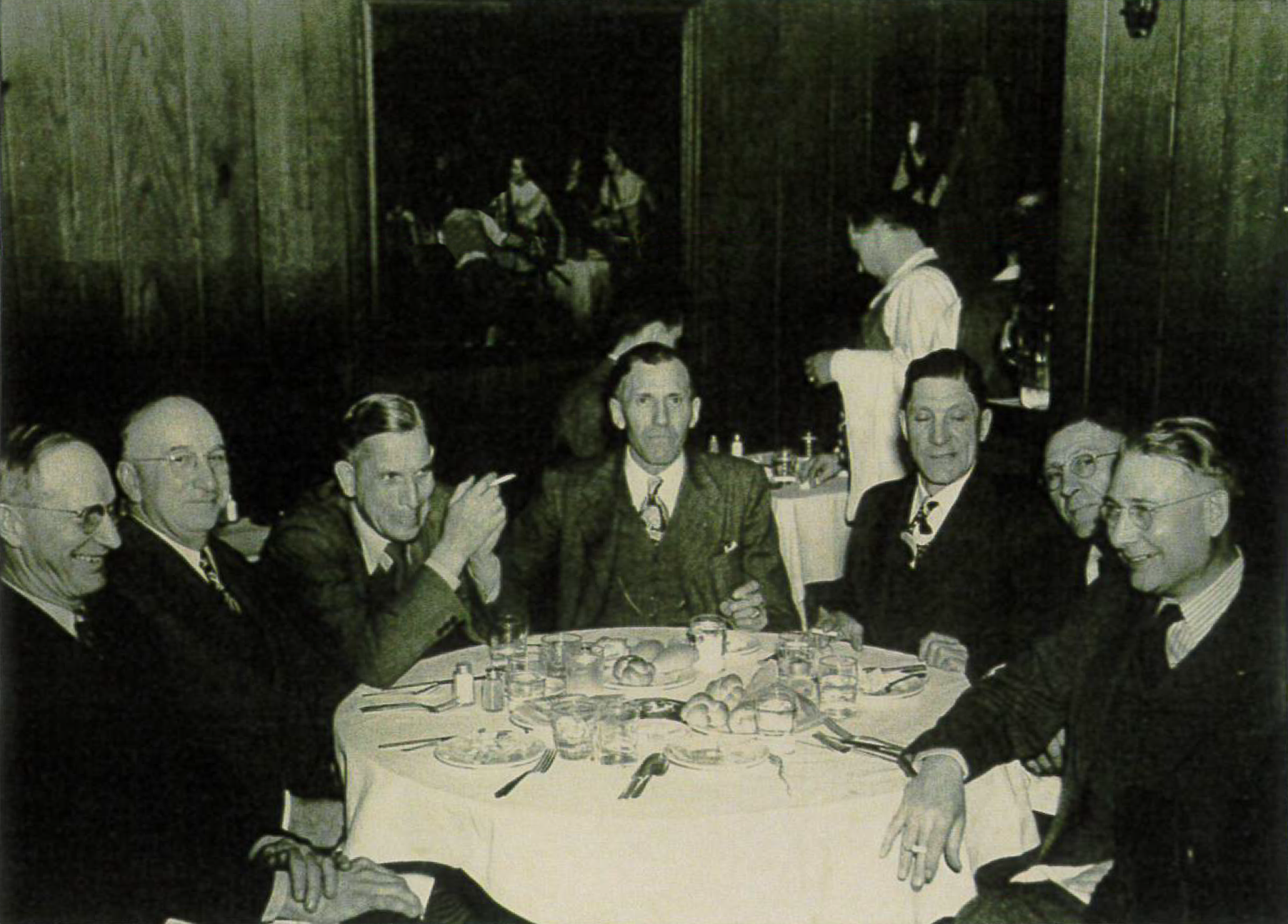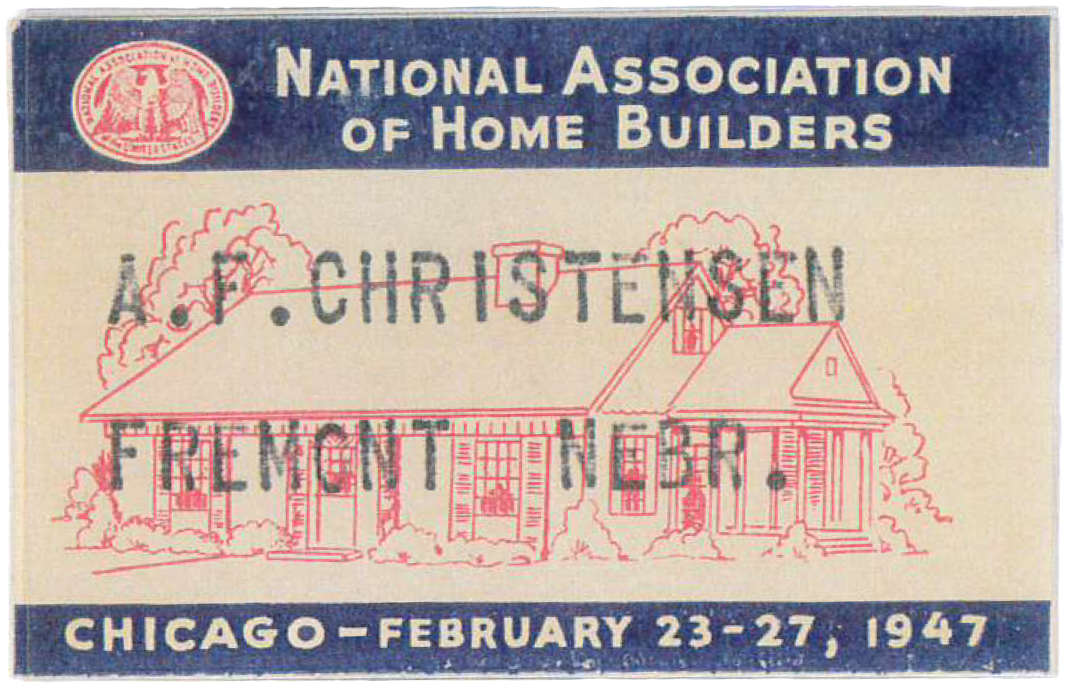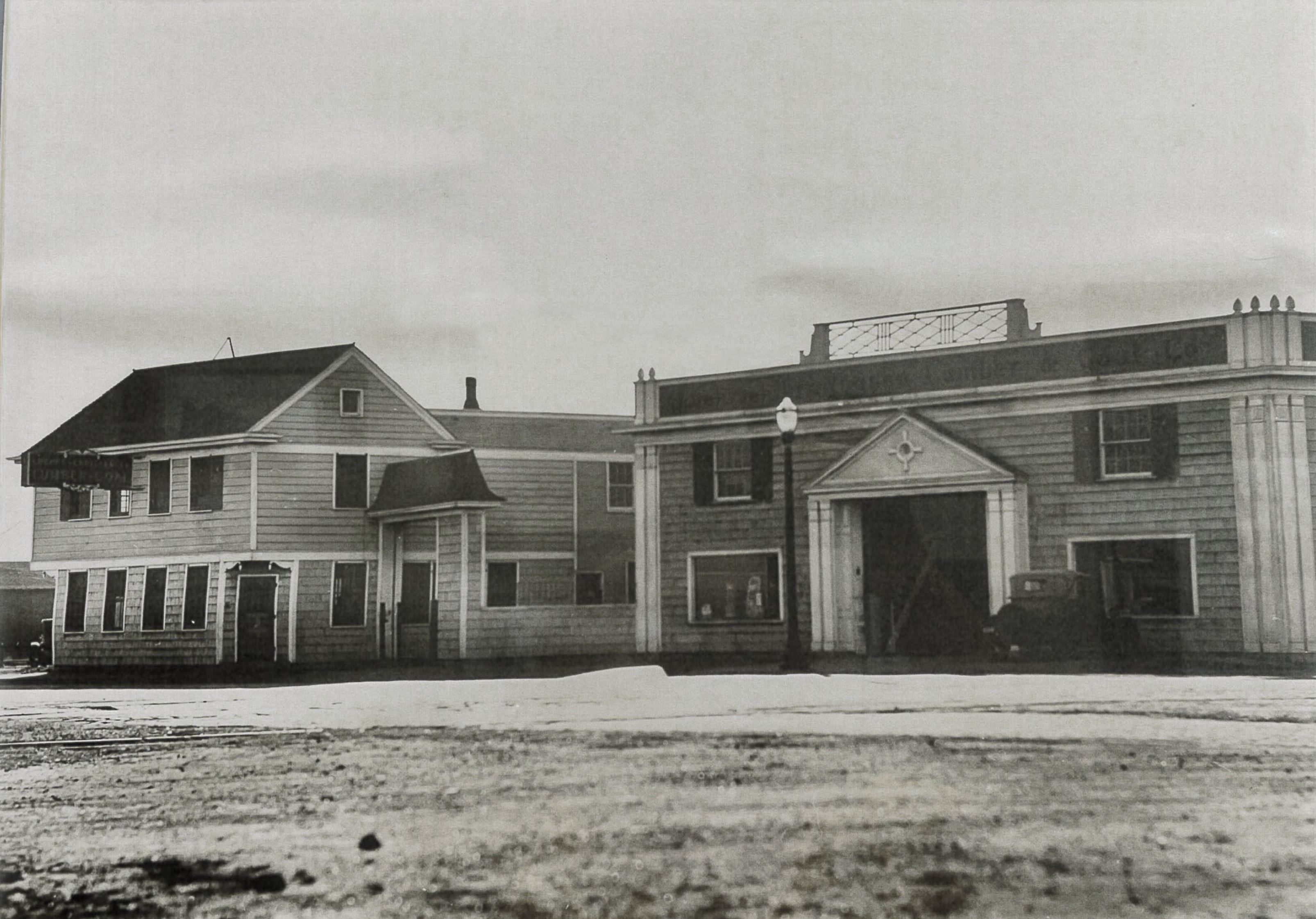 The Post-War Housing Boom
Following the war, the nation pivoted from wartime military production to domestic civilian production. Lumber returned to the market and home building flourished to accommodate American families. As the baby boom era proliferated, the housing industry charged onward. Fremont grew rapidly after WWII and the demand for building materials was high, giving Christensen the right environment to grow its home building materials sales once more.
With the need for coal as a fuel source in households and businesses diminishing in the 1950s, coal was once and for all dropped from the Christensen inventory. The old coal bins were repurposed, and the old coal sheds demolished. A new warehouse was built in their place in 1952, part of a larger renovation of the facilities. It was constructed to house lumber and other building materials inventory.
In 1955, the company name was changed for the final time to Christensen Lumber Company, and we have proudly operated as Fremont's hometown lumber and building materials provider ever since.
Building in Nebraska in the 1950s and 1960s was steady. The rise of the American middle class and sprawl of the suburbs made Fremont a desirable place for families to reside outside of Lincoln and Omaha. In 1969, with Alfred Christensen still leading as President, Christensen Lumber Company was incorporated for a fee of $50.
The Christensen Family Legacy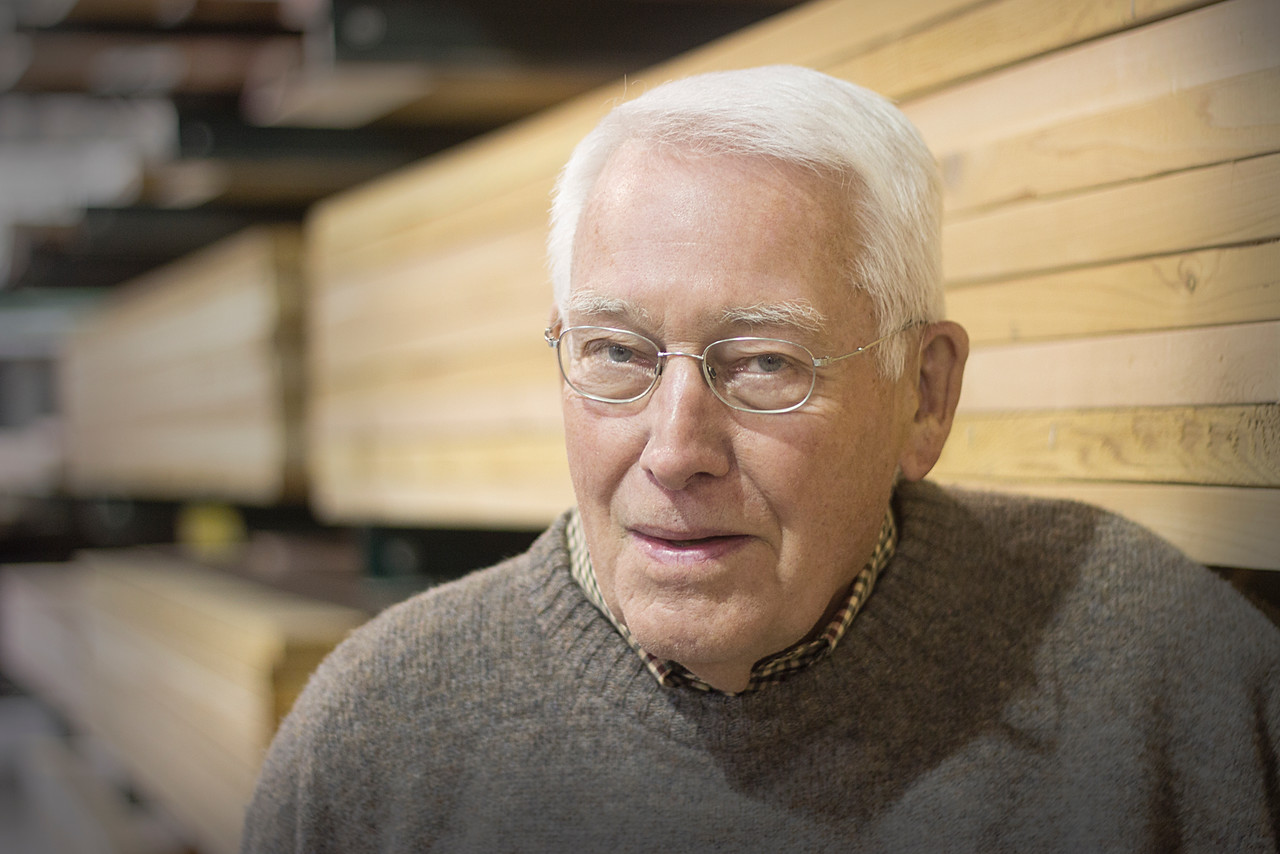 David Christensen, son of Alfred Christensen, became the second generation to work at Christensen Lumber in 1956. Following David's college studies and military service, the strong demand for housing and successful family business in homebuilding encouraged David to join forces with his father in Fremont. David first joined the team working in sales.
At the time of the 50-year anniversary in 1973, David Christensen was Vice President and General Manager, and Alfred Christensen celebrated as President.
David and Alfred worked side by side until Alfred's death on November 26, 1976 at the age of 83. David purchased controlling interest in the company from the estate of Alfred Christensen and became President on February 2, 1977.
During the 1970s, a third generation joined the company. Alfred's grandson and David's son, Tom Christensen started pitching in at Christensen nearly as soon as he could walk. Tom was sweeping floors and doing odd jobs on site at as young as six years old and has been working at Christensen Lumber ever since.
At the time of the 75-year anniversary in 1998, Tom Christensen was COO and Executive Vice President, and David Christensen celebrated as President.
David Christensen served as President of Christensen Lumber from 1977 to 1999. David transitioned to Chairman, officially handing the presidency to Tom Christensen, marking the third generation of Christensens to run the company. In 2019, David Christensen officially retired from the family business, with over 63 years of service.
Tom Christensen served as President of Christensen Lumber from 1999 to 2022. At the start of 2023, Tom transitioned to Chairman and handed the President role to Tim Ferguson, former Vice President at Christensen Lumber.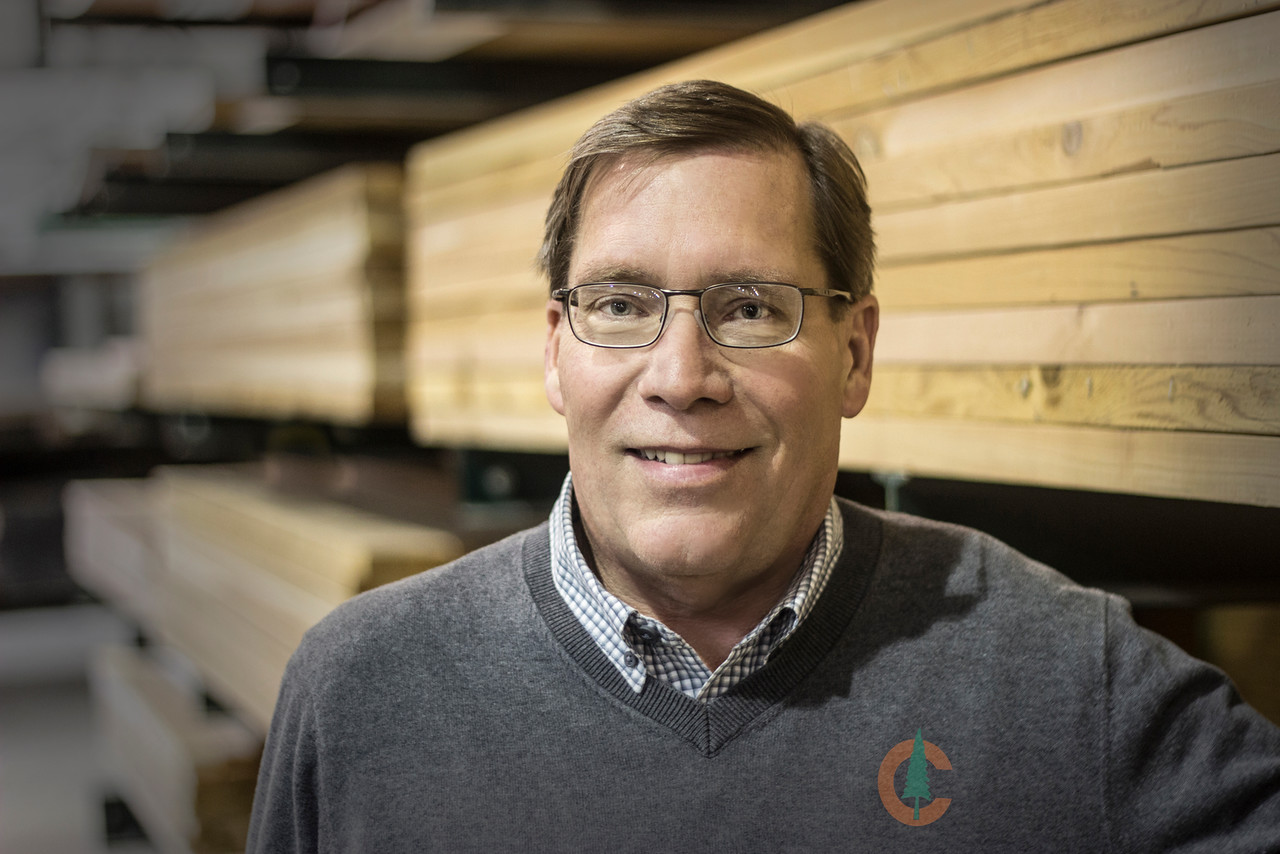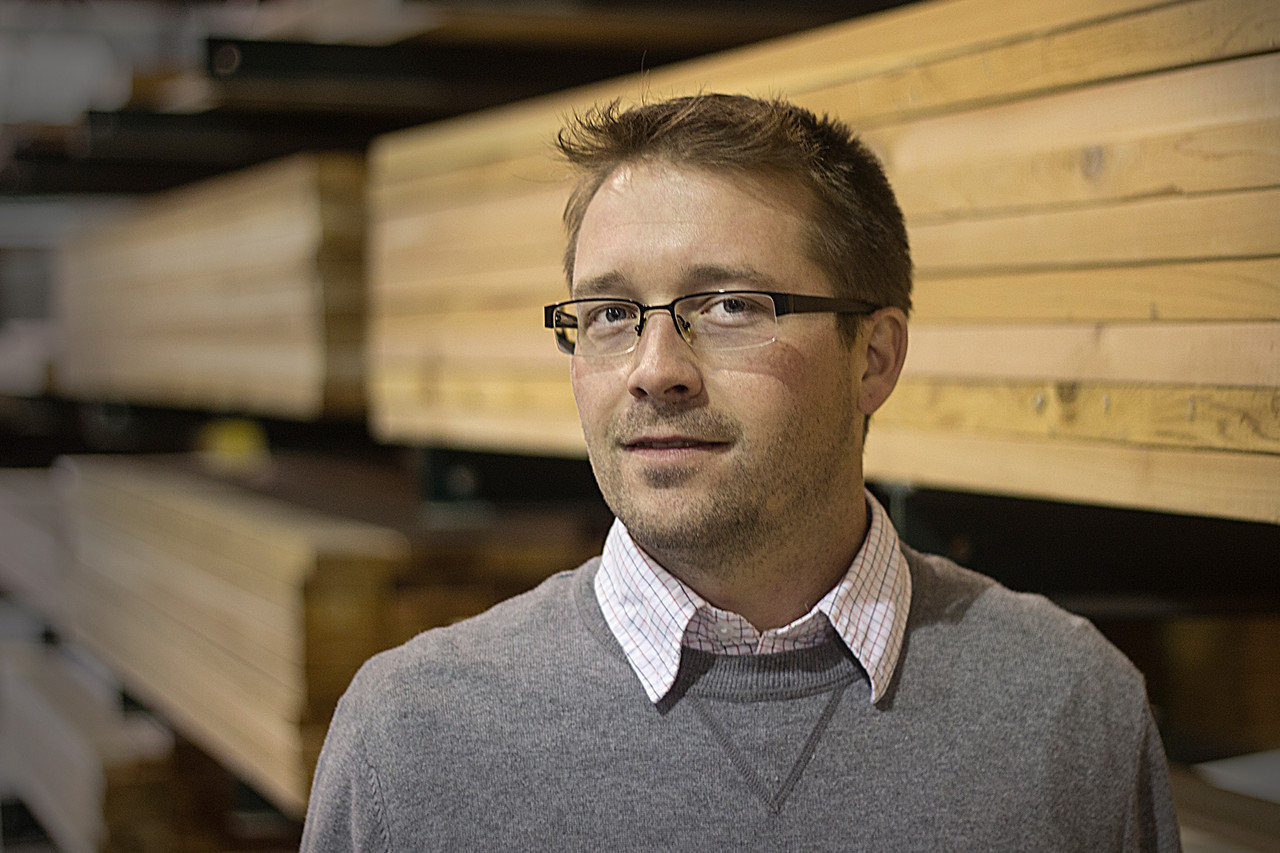 The fourth generation is well represented at Christensen Lumber today in Chad Christensen.
Chad has worked in many areas of the business since 1997, beginning with sweeping and grounds maintenance at the millwork and door shop. From 1999 to 2004, he bunked lumber loads, pulled millwork orders, loaded trucks, and made deliveries. Chad started in the Christensen estimating department in 2004, where he estimated building materials for residential houses.
From 2005 to 2010, Chad lived in Colorado and worked for a general contractor building duplexes, triplexes, and townhomes in Steamboat Springs.
Chad always knew he would continue working at the family lumber yard, and in 2010, he moved back to Fremont to do just that and rejoined the estimating department. In 2014, Chad transitioned into sales and is currently in sales and sales management roles at Christensen.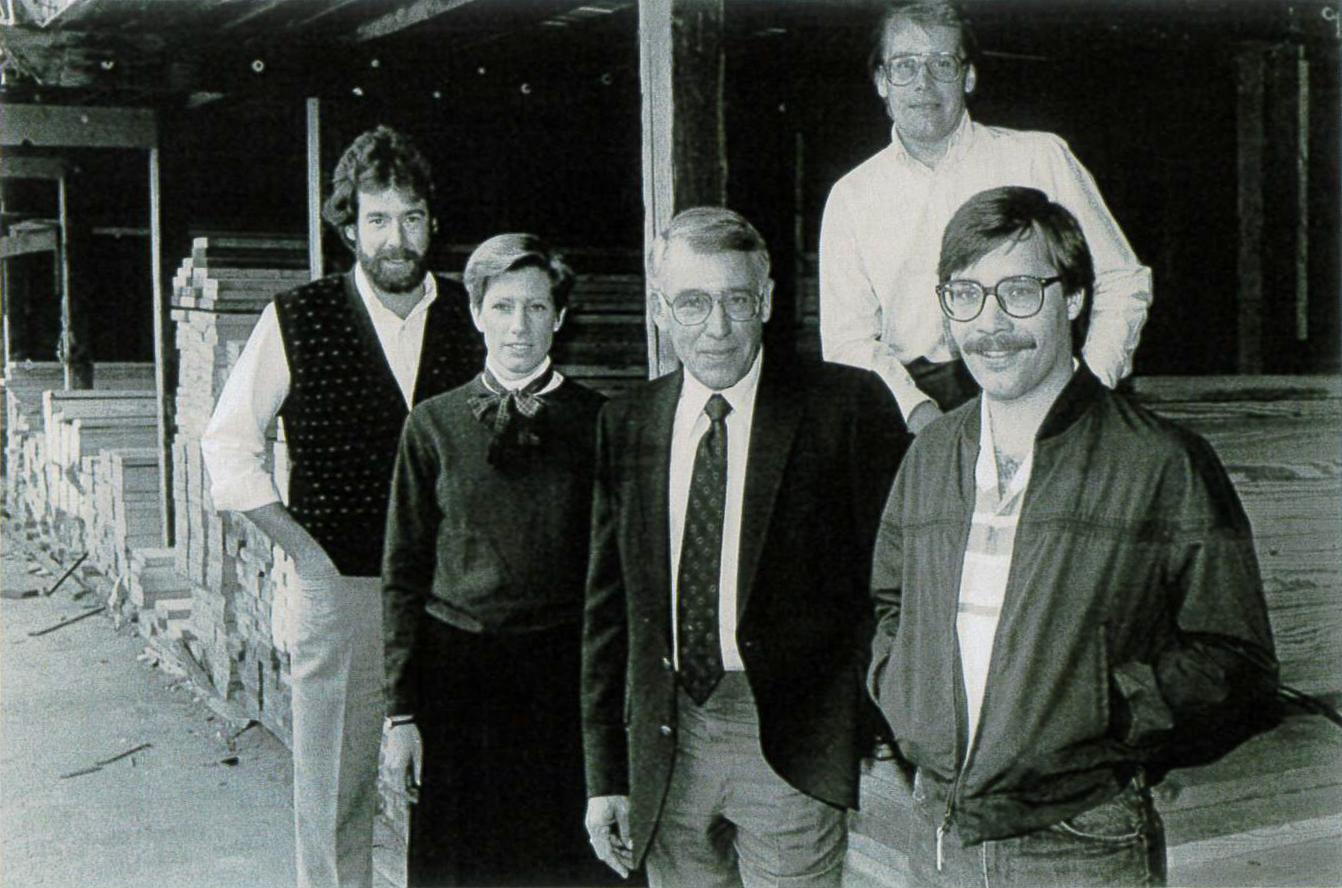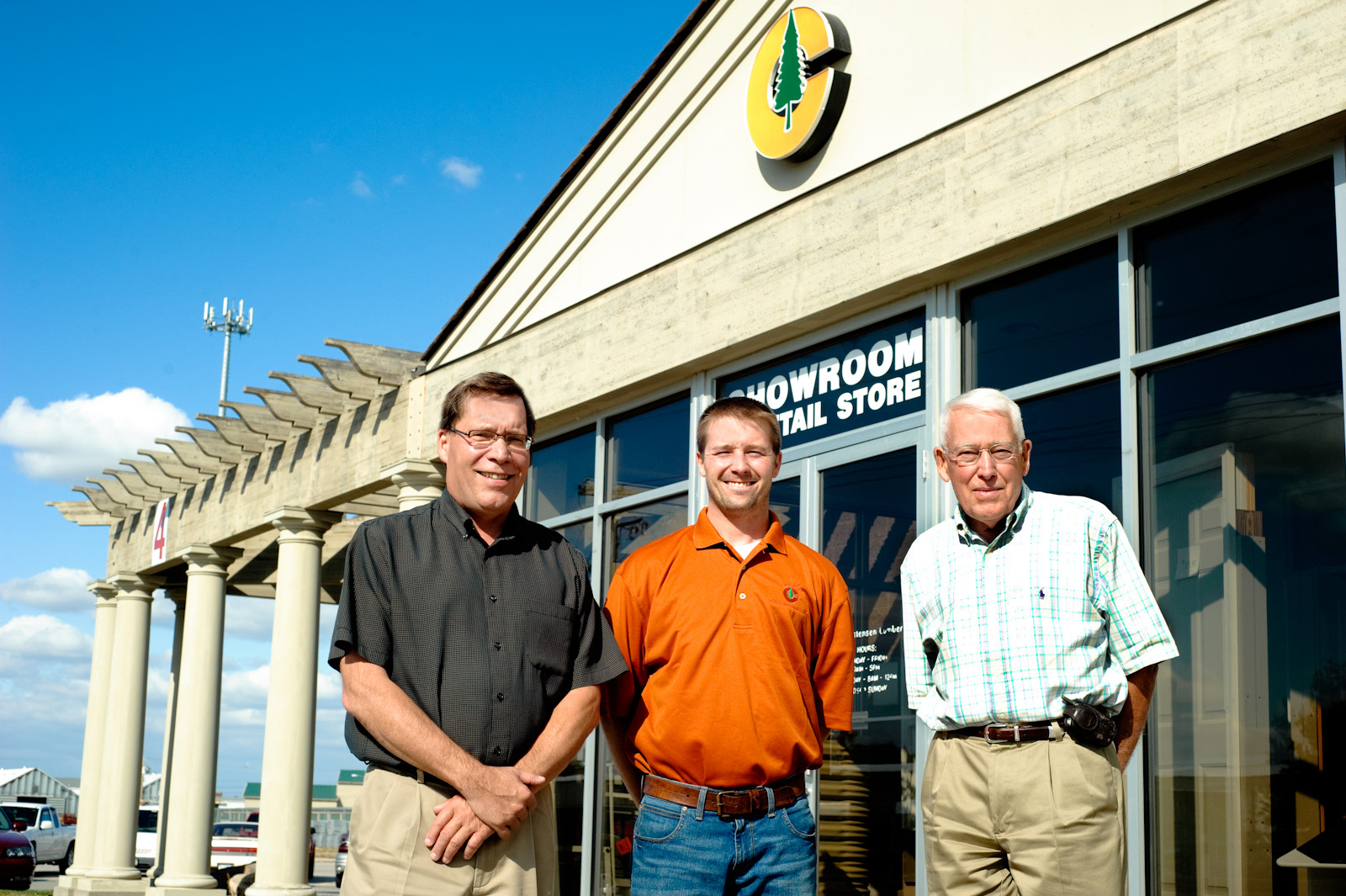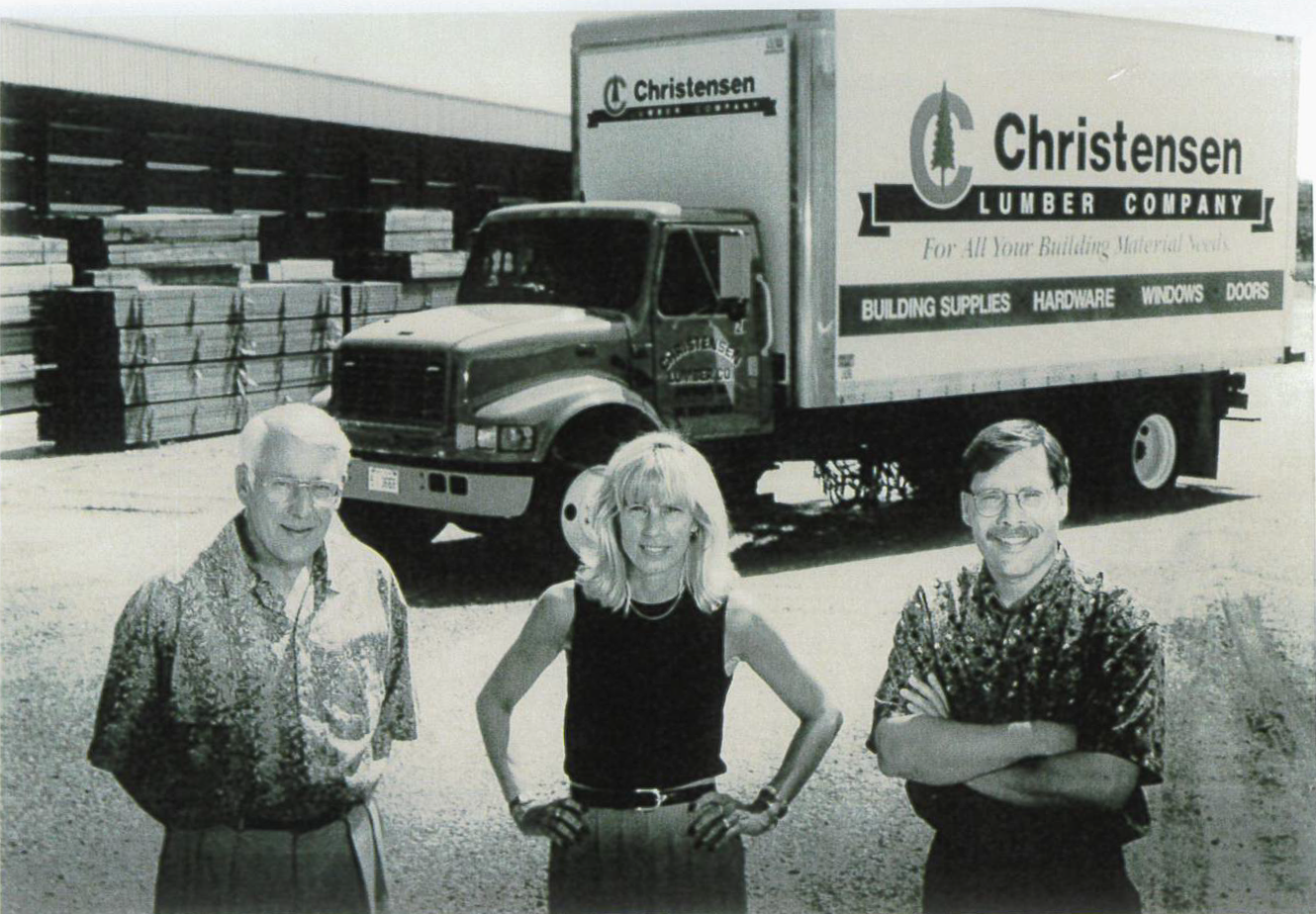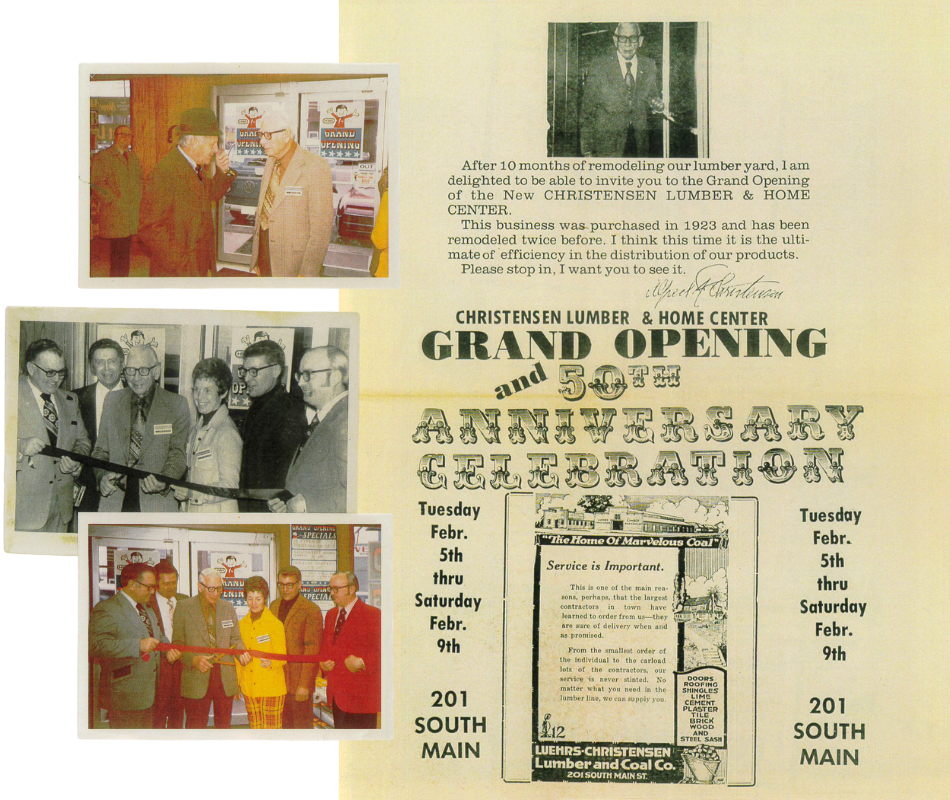 Celebrating Successes Over the Years
In 1972, Christensen Lumber Company invested in extensive renovations to its facilities, including adding on significant additional office space. By the end of the estimated $70,000 project, there was a new 4,625 square-foot storefront and office sitting on a 58,500 square-foot yard, employing 27 people. The new storefront offered a wider selection of building materials and tools, including a new paints section and paneling equipment.
With the construction finally complete after 10 months, Christensen Lumber held a formal ribbon cutting and grand opening ceremony to celebrate the company's 50th year in business at 9:30 in the morning on February 5, 1973. For the next four days, the Christensen premises were an open house to show off the renovation to all of Fremont. The new facility was called, "Christensen Lumber & Home Center".
Christensen Lumber Company officially reached 50 years in business on March 23, 1973.
With the renovations done at 201 S Main Street, Christensen was already in the process of launching yet another innovative addition. In October 1974, the first order of wooden prefabricated trusses was built at Christensen Lumber Company's new Engineered Wood Components (EWC) 8,000 square foot facility at 714 S Main Street. At the time, the new venture was viewed by David as "the industry of the future within our industry". Though the facility closed in the 1980s due to turbulence in the market, truss manufacturing made a triumphant return to Christensen in later years.
In 1985, under Tom Christensen's direction, Christensen opened a full-service millwork shop at 201 Main, fabricating pre-hung doors and stocking custom windows and millwork products to meet the high demand of the emerging, and bustling, single and multi-family markets. In 1992, the components building was converted to house the door shop, where it still operates today.
Christensen Lumber Company celebrated 75 years in business on March 23, 1998. During 1998, Christensen was in the midst of yet another impressive addition and renovation cycle in order to stay on the cutting-edge of the industry. The millwork facility was preparing for a full over-haul, including plans for a drive-through lumber yard and a new showroom on the 7-acre plot of land at 714 S Main Street. Securing city permissions, drafting final plans, and preparing funding was no simple feat for the extensive project.

Our Commitment to Building Nebraska
In 1994, Christensen expanded outside of Fremont for the first time in opening a 1,500-square-foot sales office and showroom in Omaha to better serve customers near the city. The location shifted into a larger 3,200-square-foot space in the same area before moving in 2014 to its present-day 10,000-square-foot location at 21018 Cumberland Drive in Elkhorn.
Another Christensen sales office and showroom was added to the map in Lincoln in 2013. The team there started out with two salespeople and two designers but grew rapidly with demand. The location expanded with a commercial millwork team, spurring the location's 2015 move to a new 3,500- square-foot space at 1245 Libra Dr, #100 in Lincoln, where we currently operate in Suites 100 and 106.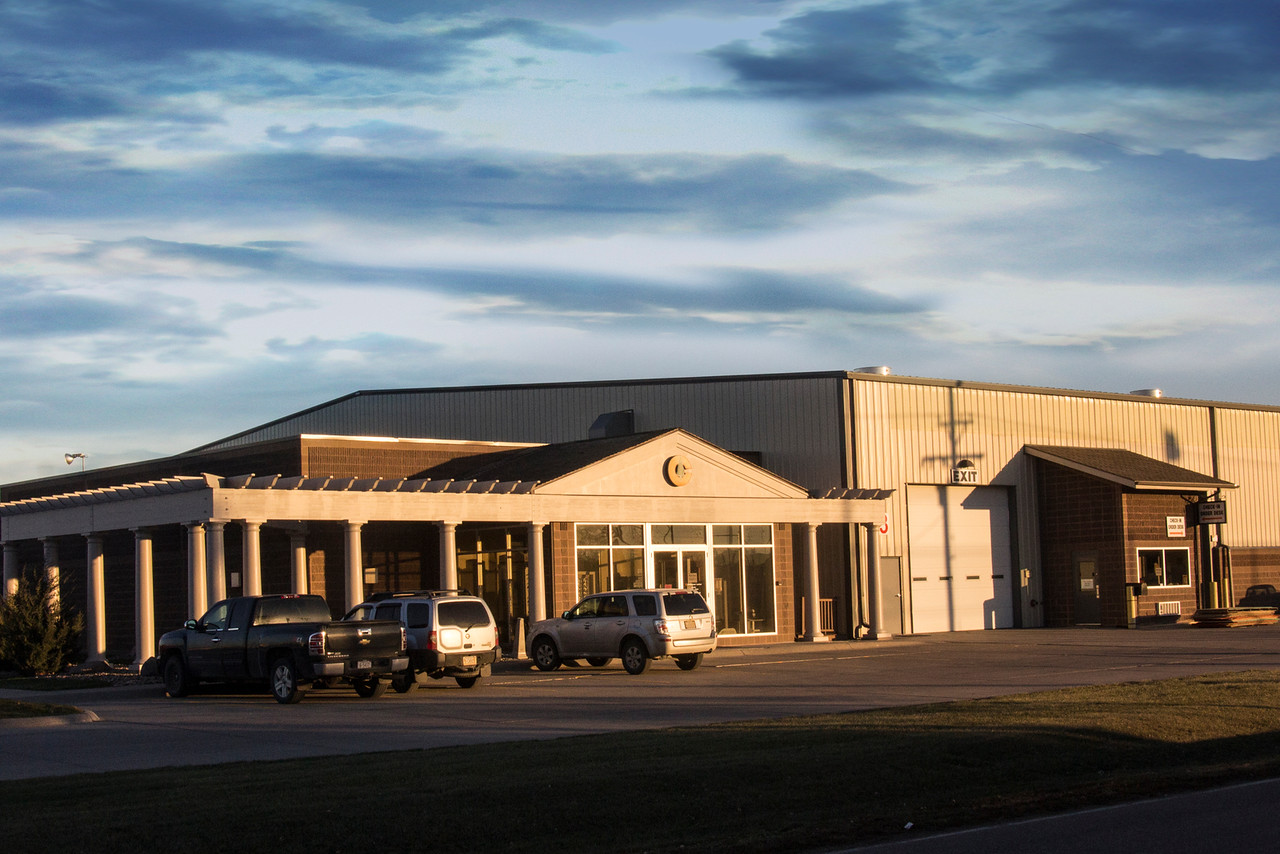 Christensen Lumber opened a long-planed, new-and-improved, full-scale building material facility at 714 S. Main Street in August 2004. The new buildings were constructed on 10 acres of land south of the existing millwork and door shop as a part of the first phase of Christensen's headquarters relocation to 714 South Main. These buildings were developed between 1992 and 1997, creating a 14-acre full-scale operation in Fremont. The facility was complete with new railroad service in the form of a raised dock to unload multiple box cars of OSB and plywood, as well as an extended rail to unload up to five center beam cars of lumber, served by Union Pacific's cross-continental main line. With the new additions, covered warehouse space totaled 185,000 square feet, and office and showroom space totaled 8,500 square feet.
In 2006, Christensen built a 41,000-square-foot component plant equipped with the best technology and assembly systems of its time. Production consisted of roof and floor trusses, wall panels, and stairs, allowing Christensen to once again offer components products to customers. The addition added another 5 acres to the south of the property, making the total size 19.21 acres and 225,000 square feet of operations under roof. Having the component operation connected created operating efficiencies immediately.
Between 2016 and 2017, the old 201 South Main facility was renovated, which today houses Installed Sales and Field Service, dispatched from the front office, and stair production in the rear. The old lumber alley, which was once the old coal yard, is now home to floor truss fabrication. Christensen's warehouse south of the 201 office was converted to wall panel production, adding another two acres of land and bringing back to life 50,000 square feet of warehouse space.
In 2018, Christensen added 16,650 square feet of warehouse space to its 714 S. Main operation, utilizing open space in various corridors between existing buildings and creating covered outdoor storage totaling 300,000 square feet.
Christensen purchased 2.3 acres at 500 Main in 2019, just north of 714 S. Main, which is currently used for open finished goods storage with further plans in the works for the years to come. Today, all combined, Christensen operates on a total of 23.4 acres of land.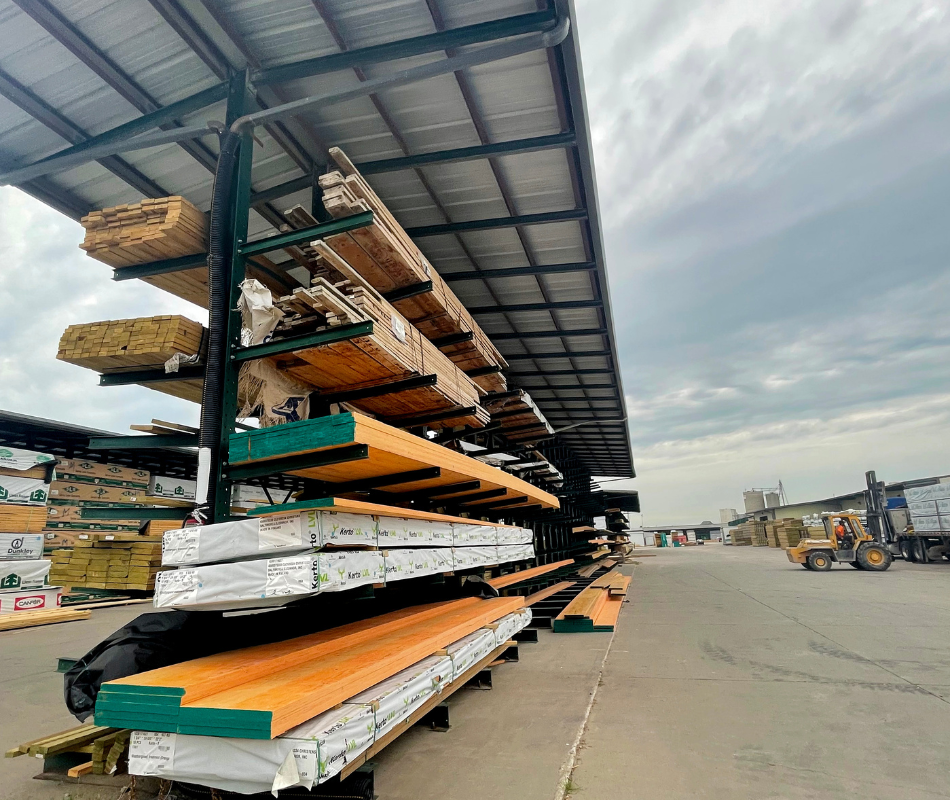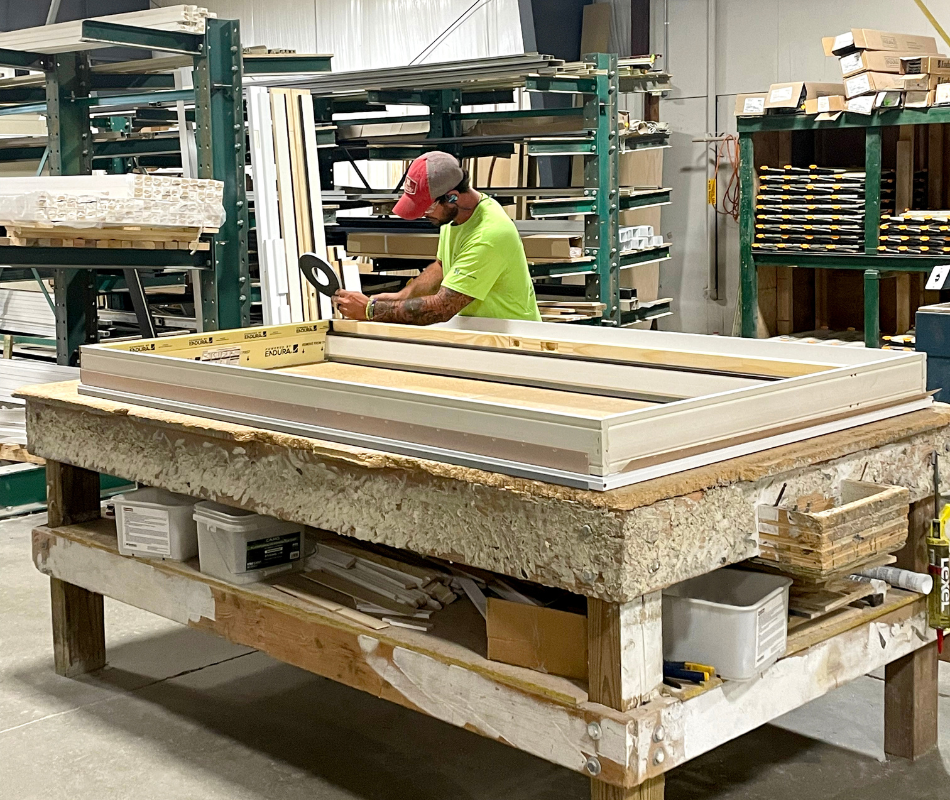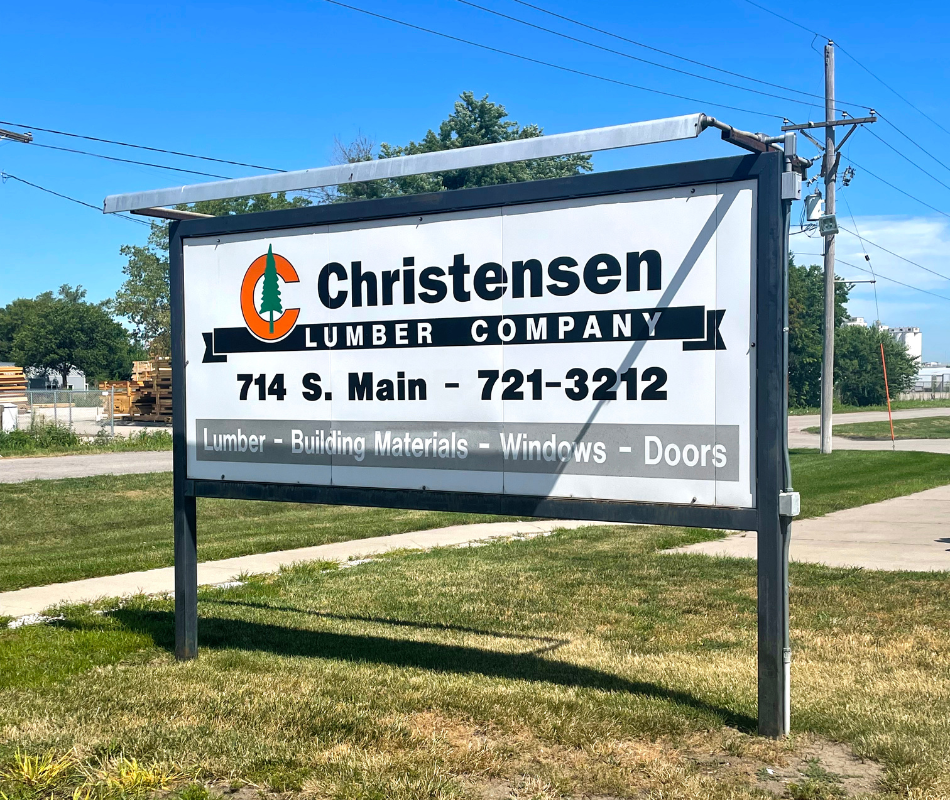 100 Years of Christensen Lumber Company
Though our business has changed from a small coal and lumber yard of the early-twentieth century to a modern network of full-line building materials manufacturing facilities focused on serving the professional builder and contractors, our values and commitment to customer service have remained the very same. Our early use of computer technology in the development of trusses, component systems, and pre-hung doors and our emphasis on millwork sales have lasted the test of time. Our continued focus on single-family and commercial wood-framed projects has served us well and has provided Nebraska with countless structures. From the now historically significant buildings to the homes of local families, we're proud to have contributed to each and every build.
Christensen Lumber Company celebrates 100 years in business on March 23, 2023.
To our employees past and present, and to our longtime customers, vendors, partners, mentors, and friends: thank you. Our 100-year anniversary is here thanks to your 100 years of support. We're so fortunate and excited to continue writing the next chapter of our story alongside all of you.
Historical Documents Gallery
CHRISTENSEN LUMBER CARES
Learn more about the core values that have driven the Christensen Lumber family for the past 100 years