CHRISTENSEN LUMBER CARES
It is our great honor and responsibility to serve the communities in which we operate and live. We have partnered with charitable organizations and community initiatives doing remarkable work in our hometown, including (but certainly not limited to): Habitat for Humanity, Builders of the Future, LifeHouse's Food Pantry, Heart Heroes, Keep Fremont Beautiful, The Salvation Army, Fremont Area Community Foundation, Fremont Public School Foundation, Ronald McDonald House Charities, Boy Scouts of America, Dodge County Humane Society, NeighborWorks Lincoln, Fremont Family YMCA, and United Way.
We care about our employees, our customers, and our community.
"We've gone from helping hands to donating a framing job for the whole house. Habitat for Humanity is just a good cause and it fits our business model really well. When I have the talent, when I have the production capabilities and the team members, we're a natural." 
Tom Christensen, Chairman

Components for a Cause
Christensen Lumber has built a partnership to be proud of with Fremont Area Habitat for Humanity. Not only have our team members volunteered on projects, but Christensen Lumber has also donated lumber, components, and building supplies, and is a sponsor to this awesome organization. We prioritize being a helping hand to Habitat however we can and reach out to help when challenges arise - on one occasion, a house needed to be framed in a hurry before winter weather set in, so Christensen leadership donated our employees time, and our employees came to volunteer to complete the job. We're grateful to be a part of this community and for the opportunity to help others with our talents and materials. We're especially thankful for our incredible employees who take this vision in stride and give of themselves to better our community.
Supporting Future Builders
The Builders of the Future program's purpose is to locate, encourage, and educate the next generation of construction trade specialists. It is their mission to be "building and developing tomorrow's construction leaders" through mentoring, funding for education, and employment opportunities in the residential and light commercial construction community. Christensen Lumber is proud to sponsor this program to help train future builders!  Learn more on how you can support Builders of the Future.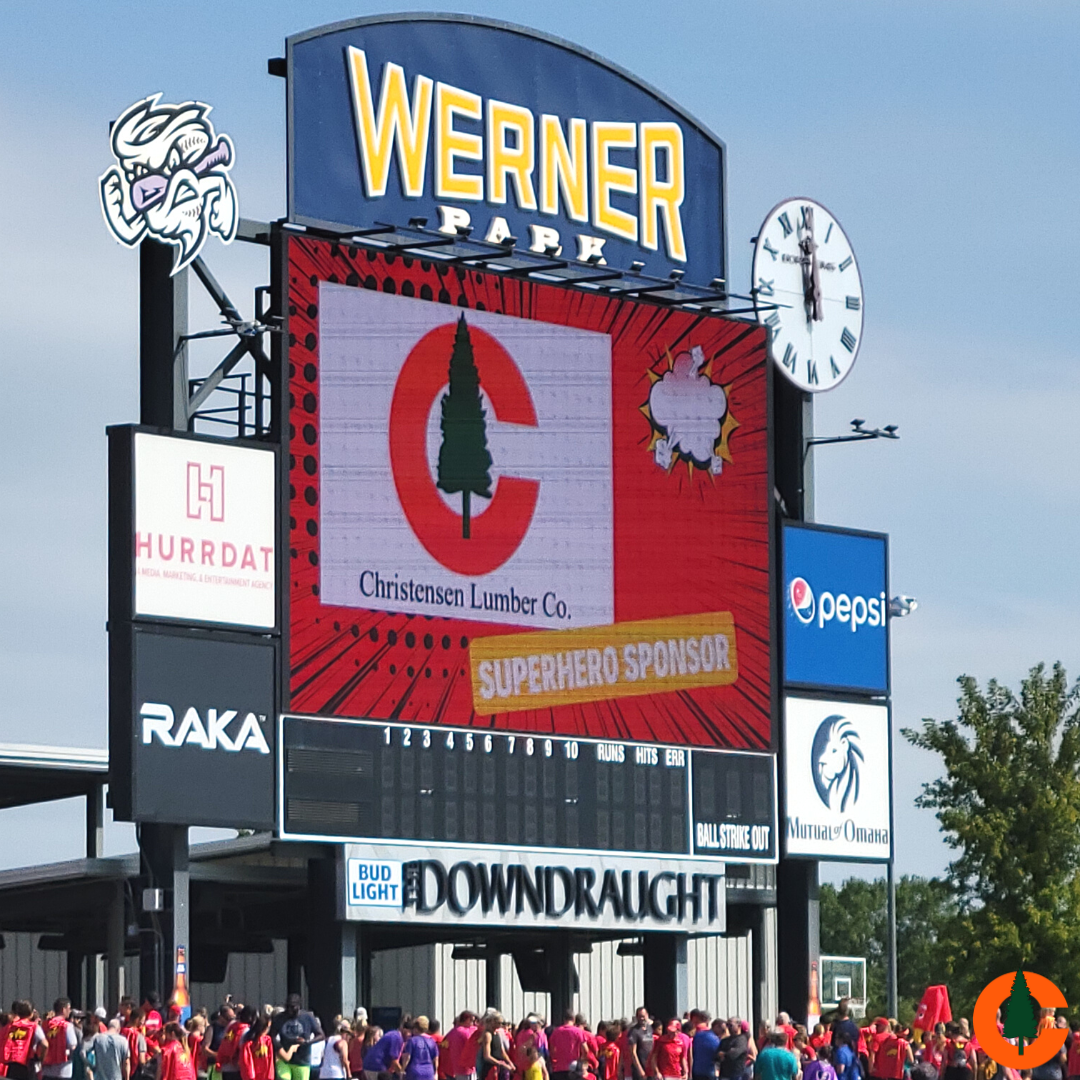 CHD Superheroes
We are proud to have had the opportunity to be a Superhero Sponsor of the 10th Annual Superhero Heart Run at Werner Park, put on by Heart Heroes, Inc.
This event raised funds for support and research for Congenital Heart Disease (CHD). CHD is a general term used to describe a variety of heart conditions that are present at birth. They can affect the shape of the heart, how it functions, or both. It is the most common type of birth defect with approximately 40,000 babies born in the U.S. with CHD each year.
Heart Heroes supports a variety of initiatives, including:
Inpatient Programs

Totes of Hope, Bags of Fun, and Inpatient Meals

Family Support Programs

Family Support Events, Grief & Remembrance, Superhero Heart Run, and Nebraska Facebook Support Group

Heart Hero Funded Programs

Camp Braveheart, Research, and Member Conference Sponsorships
Thanks so much to Shari from Heart Heroes for sending this awesome photo over to our team! What a fantastic and successful event for an important cause.