Enhance Your Home with Sierra Pacific Windows: A Perfect Blend of Quality, Sustainability & Innovation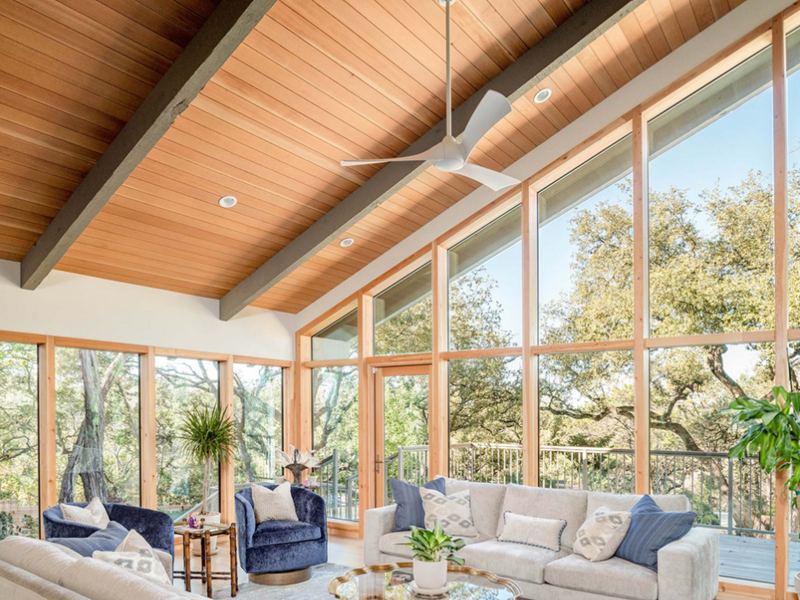 Are you a homeowner, contractor, or custom home builder in Nebraska in need of high-quality windows that combine beauty, durability, and energy efficiency? Look no further than Sierra Pacific Windows, a trusted name in the industry. With exceptional craftsmanship and innovative designs, Sierra Pacific Windows offers a wide range of windows to elevate the aesthetics and performance of your home.
The Benefits of Choosing Sierra Pacific Windows

Sierra Pacific Windows is known for its exceptional quality and longevity. Built with premium materials and craftsmanship, these windows are designed to withstand the test of time. Every step of the manufacturing process is carefully controlled thanks to Sierra Pacific's "Seed-to-Window" approach, resulting in windows that meet the highest standards of performance and durability.
Unparalleled Craftsmanship
Renowned for its exceptional craftsmanship, Sierra Pacific Windows ensures that every window is built to the highest standards. From the moment you install their windows, you'll notice the precision and attention to detail that goes into their manufacturing process. This craftsmanship translates into windows that not only look stunning but also function flawlessly for years to come.
Energy Efficiency

In Nebraska, temperatures fluctuate throughout the year, making energy-efficient windows essential. Sierra Pacific windows are energy-efficient, reducing heat loss in winter and minimizing heat gain during summer. By keeping your home comfortable year-round, these windows help you save on heating and cooling costs while reducing your environmental footprint.
Durability & Longevity
When you invest in new windows, you want them to stand the test of time. Sierra Pacific Windows uses the finest materials available, ensuring their windows are built to last. With their superior durability, these windows can withstand the harshest weather conditions, including heavy rains, strong winds, and extreme temperatures. Choosing Sierra Pacific Windows means investing in windows that will continue to perform beautifully for years, requiring minimal maintenance.
Lifetime Warranty

With Sierra Pacific Windows, you can have peace of mind knowing you have a protected investment. The company stands behind the quality of its windows by offering a lifetime warranty, reflecting its confidence in the durability and performance of its products.
Explore the Wide Range of Sierra Pacific Windows
These windows are also available in a variety of styles and colors, allowing you to find the perfect match for your home's aesthetic. Whether you prefer the classic charm of wood windows or the sleek elegance of aluminum-clad windows, Sierra Pacific offers a range of options to suit your taste and complement your home's décor.
Wood Windows

Sierra Pacific offers a wide selection of wood windows, including single and double-hung, casement, awning, and picture windows. These windows combine beauty, durability, and efficiency, providing a warm and inviting atmosphere in your home.
Aluminum Windows

If you're looking for low maintenance and durability, Sierra Pacific's aluminum windows are an excellent choice. They are available in various styles and colors, offering modern aesthetics and exceptional performance.
Fiberglass Windows

Sierra Pacific's fiberglass windows are energy-efficient and highly durable. Designed to withstand harsh weather conditions, they provide superior insulation while requiring minimal upkeep.
In addition, Sierra Pacific also offers specialty windows like bay windows, bow windows, and garden windows. The company provides an array of window treatments, including blinds, shades, and shutters, allowing you to enhance your windows to customize your home according to your preferences.
Upgrade your Nebraska Home with Sierra Pacific Windows from Christensen Lumber
Whether you're a homeowner, contractor, or custom home builder in Nebraska, Sierra Pacific Windows is the ultimate choice for superior craftsmanship, energy efficiency, and durability. Sierra Pacific's "Seed-to-Window" approach ensures that each window is crafted with meticulous attention to detail and sustainable practices, guaranteeing lasting beauty and performance.
To learn more about Sierra Pacific Windows and how they can transform your home, contact Christensen Lumber and explore their wide range of products and resources. As a trusted partner of Sierra Pacific Windows, Christensen Lumber offers expert advice, exceptional customer service, and hassle-free installation.