How to Choose the Right Siding for Your Home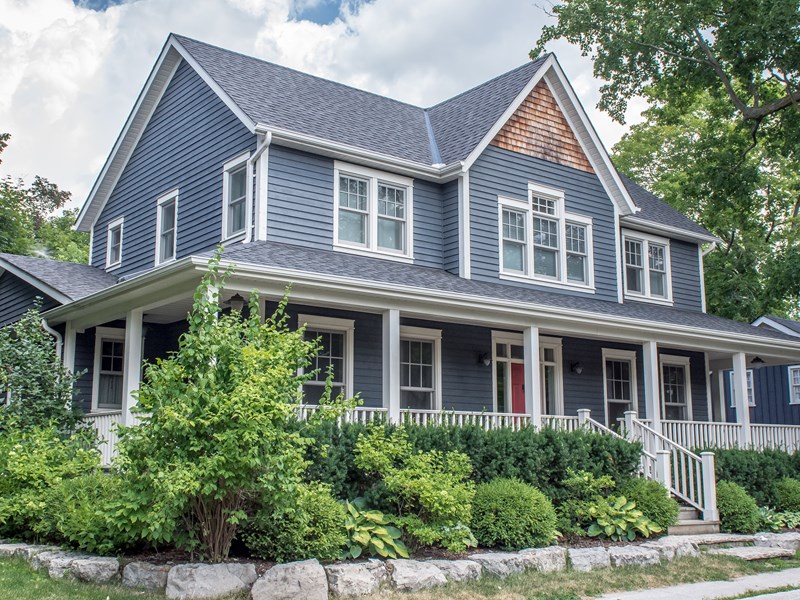 Whether you're a homeowner looking to do some renovations or a contractor or builder working on a new home, you know and understand the importance of curb appeal. Curb appeal is one of the most important aspects of building a home—from trim and siding to landscaping and color palette, curb appeal can make or break a home's value.
There are many great options for exterior siding, so how do you choose which kind works best with your project? When choosing siding, always think through longevity and maintenance, the Nebraska climate and weather, and of course, curb appeal and style. 
Cementitious Siding from James Hardie
Also known as fiber cement siding, cementitious siding is a great option for a home in Nebraska. James Hardie cementitious siding is engineered for enhanced strength and moisture protection, meaning that you won't have to worry about rotting or warping during the winters. Cementitious siding also uses finishing technology that resists fading in the sun, so you can keep your sleek white house and black trim look for many years to come! 
A few more benefits to using cementitious siding include: 
Unbeatable warranties,

 

Weather resistance,

 

Animal and insect resistance,

Fire resistance,

Durability and stability, and

Minimal maintenance.

 
Choose from several different types of exterior siding through James Hardie including their Lap Siding HardiePlank line, Vertical Siding HardiePanel line, and Shingle Siding HardieShingle line. Be sure to check out HardieTrim Trim and Batten boards and HardieSoffit Soffits to create a cohesive look that appeals to any aesthetic taste.  
Fiberboard Siding from LP SmartSide
Fiberboard siding from LP SmartSide is another great choice for exterior siding that uses resins, waxes, zinc, and overlay to create a premium siding product for your home. 
Just like cementitious siding, fiberboard siding is water resistant, animal and insect resistant, and hail and wind resistant (again with those tough Nebraska winters!). However, there are many other benefits that to using fiberboard siding: 
It is fungal resistant;

 

It is impact resistant;

 

It is easier to cut;

It is lightweight;

It is easy to install; and

It is sustainable.

 
Since fiberboard siding is a wood-based product, it adheres to Sustainable Forestry Initiative (SFI) sourcing systems and qualifies for green building programs—a huge plus in the "go green" era of today!  
Wood Siding
Of course, another popular and traditional option for exterior siding is wood siding—classic and beautiful, wood siding can be found in Cypress, Redwood, Cedar, Fir, Spruce, and Pine. Like other forms of siding, wood has its benefits, but it also has its drawbacks as a more natural product. 
Benefits of Wood Siding
The following are a few benefits to using wood siding: 
Resistance to impact. Brick will chip and metal will dent, but wood siding will gradually ease out dents if faced with heavy impact and will continue to respond to moisture and temperature changes.
Easy installation. If you're a do-it-yourselfer for a siding repair, wood might be the best option for you—wood siding is easy to install and easy to cut. 
Timeless beauty. Even though alternative siding materials have quickly increased in popularity, wood siding will always have a natural beauty desired by homeowners and designers.

 

Environmentally friendly. Wood is a great siding product to use to go green on your project—since wood is a natural resource, it degrades quickly in landfills and can easily be reused for different building projects.

 
Drawbacks of Wood Siding
Wood siding may have many benefits, but when you're buying any product, you also need to be aware of the potential drawbacks. Since wood is a natural product, it is more susceptible to damages from insects, animals, weather, and impact, which also means increased maintenance and expenses. The same unique factors that make real wood so desired are also the same ones which will call for routine, and often costly, maintenance and replacements.  
Source Your Siding from Christensen Lumber
Now that you know all the benefits of the different types of exterior siding, you can review your options and start shopping for the siding for your new home! At Christensen Lumber, we carry a wide variety of materials, colors, and stylistic choices for your siding needs through top-rated industry brands like James Hardie, LP SmartSide, and more. To browse our siding options, visit our in-store showrooms in Fremont, Elkhorn, and Lincoln or give us a call to learn more.